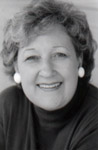 MARY KAY''S TESTIMONY

"Mary, Mary, quite contrary how does your garden grow?"
The familiar nursery rhyme did not evoke pleasant memories for me because it was used to describe me all too often. In fact, "quite contrary" was probably one of the nicer things said about me. Perhaps it was that long ago memory that caused me to identify so completely with Jesus' story:
Parable of the Weeds
"He presented another parable to them, saying, "The kingdom of heaven may be compared to a man who sowed good seed in his field. But while men were sleeping, his enemy came and sowed tares also among the wheat, and went away. But when the wheat sprang up and bore grain, then the tares became evident also. And the slaves of the landowner came and said to him, "Sir, did you not sow good seed in your field? How then does it have tares?' And he said to them, 'An enemy has done this.'" And the slaves said to him, 'Do you want us, then, to go and gather them up?' But he said, 'No; lest while you are gathering up the tares, you may root up the wheat with them. Allow both to grow together until the harvest; and in the time of the harvest I will say to the reapers, "First gather up the tares and bind them in bundles to burn them up; but gather the wheat into my barn."'"
Matthew 13: 24-30
Sitting on the narrow bunk of the cell in a county jail, awaiting trial and facing multiple charges in several jurisdictions was an obvious clue that "my garden" was not growing so well. Like the man in the parable, I knew about "good seed", both from a natural and spiritual context. As the fifth of nine children, my first 15 years were spent on a farm in the Midwest U.S.A.
Each Sunday we would dress in our best clothes and Mama would take us to a small country church where I heard about the "good seed" of God's Word. This "seed" was to be "hidden in my heart that I might not sin against God." While I hid it in my heart, memorizing weekly passages, my motive was not to keep me from sin, but rather, to show others how smart I was.
Just as in the parable of Jesus, "an enemy sowed tares among the wheat and went away." In my young mind, the "enemy" was my abusive alcoholic father, who frequently left us. The weeds of anger and resentment, envy and selfish ambition began to spring up and by the time I was 21, the "root of bitterness" had almost overcome the "good seed" planted by Mama and my early Sunday school lessons.
A brief marriage produced two children and ended in divorce and the bitterness grew. A second marriage produced an even greater harvest of sinfulness. My husband was a career criminal who taught me his trade, and I became a full partner in his criminal lifestyle.
When I was hospitalized for surgery, my husband abandoned me, and bitterness overflowed my heart. I was arrested by the federal authorities and transferred to Birmingham, Alabama. It was a few days before Christmas and my future looked as bleak and dismal as the winter weather.
While in jail, I was told I could leave my cell for an hour to attend a Sunday school class that was taught by some local Christians. Curiosity compelled me to go; I wondered what kind of people would come to a jail on a Sunday morning at 7:00 o'clock. I sat down on the hard metal bench next to a slender woman in her late 40's and asked, somewhat belligerently, "Why do you bother?" In a quiet voice, she replied, "Jesus loved you enough to go all the way to Calvary; we love you enough to come and tell you about Him."
I remained silent, but listened carefully. Weekly I was reminded of lessons I had learned in childhood. Lessons of love and forgiveness and mercy; lessons long obscured by emotions of anger and hate and bitterness.
One day alone in my cell, I picked up a Bible; lying on my bunk, idly flipping pages. My eyes were drawn to two verses': "Moreover, I will give you a new heart and put a new spirit within you; I will remove the heart of stone from your flesh and give you a heart of flesh. And I will put my Spirit within you and cause you to walk in My statutes, and you will be careful to observe My ordinances." Ezekiel 36: 26, 27
In a flash of revelation, I recognized the Truth of those words. Kneeling on the concrete floor beside the bunk I prayed, "Lord I've made a mess of it. If You can change my heart and make me the kind of person You want me to be, I'll live the rest of my life for You. Anywhere You want me to go, anything You want me to do, that's what I'll do. Amen"
More than thirty years have passed since that prayer and God is faithful. Five and half years were spent in prison;. Ultimately I was paroled and with the help of my Christian family I obtained a Bachelor's degree in Secondary Education and a Master's degree in Counseling.
In 1982 I became the Alabama Area Director for Prison Fellowship and one of my first assignments was to develop a Christmas program. Having spent six Christmases behind bars, I remembered how the women searched for ways to provide some small gift for their children, using the very items they had received from various groups and churches.
With the help of the Body of Christ, Christmas trees were placed in two shopping malls and decorated with paper angels. On each angel was written the name and age of the child of a prisoner and an item that child had requested for Christmas. I never dreamed what God would do with that first Angel Tree seed.
In 1982, there were 556 children in the state of Alabama who received gifts through Angel Tree, but since that first Christmas Angel tree over 7 million children have been touched by Angel Tree. God is faithful! "So shall My word be which goes forth from My mouth; It shall not return to Me empty, Without accomplishing what I desire, and without succeeding in the matter for which I sent it."
Isaiah 55:11
There is so much more to tell, indeed everyday is full of God's Mercy and Grace. In God's Providence and perfect time, I met Don Beard. Don was a convicted felon, had been in prison twice, and he was an alcoholic/addict who also experienced God's Mercy and Deliverance from the prison of sin. In January, 1984, we were married, and we marveled everyday during our time together at how truly God can make "all things work together for good". Don passed away February 19, 2006 after a long illness and while I still miss him, I am grateful to God for the time we had and I know we'll be together again someday.
The most important message of all is that God loves you. There is no language God cannot speak; there is no person God cannot redeem. There is no prison where He is not the Deliverer. In Revelation 3:20 we read: "Behold, I stand at the door and knock, if anyone hears my voice, and opens the door, I will come into him, and will dine with him and he with Me." There are many more steps as He led me to find His peace and joy, which you can read about in the upcoming book about my life. My prayer is that you will also take a step of faith and open your heart to Jesus Christ so that He can open the door of life - eternal life - to you.